We proceed with deep confidence in the complete truthfulness of Scripture as well as an unswerving commitment to the importance of intellectual humility.
---
Dabar Conference (2016)
Reading Genesis in an Age of Science
The Dabar Conference is a by-invitation event gathering 50+ evangelicals together from different disciplines, denominations, and institutions with the goal of orienting evangelical theologians to the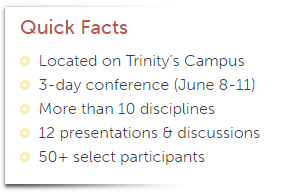 relevant recent work in the natural sciences and to promoting scholarship in the field of the doctrine of creation.
In the sensationalized, polarizing, and vocationally hazardous terrain of North American culture, honest, well informed, humble, and open conversation on the doctrine of creation is very important. The Dabar (Heb. "word") Conference aims to be just such a venue.

Conference Objectives
Orient evangelical scholars working in the "classical" theological disciplines to relevant recent work in the natural sciences
Sharpen our awareness of which questions need to be asked, what tasks need to be shouldered, and what work remains
Promote theological scholarship in the field of the doctrine of creation that is both faithful to evangelical doctrinal commitments and engaged with relevant work in the natural sciences
Develop clarity and direction within the evangelical theological community in order to provide both clear and public guidance for the church