"This creation in its maintenance and government proclaim the majesty of the divine nature." –John of Damascus
---
Exhibition Area
The Creation Project has no pretensions or long-term aspirations of being a new voice in a growing conversation. Our role is more modest: We'd like to foster a collaborative, interdisciplinary conversation from within the theological disciplines and informed by the state of modern scientific inquiry, providing clear and public guidance for the evangelical church.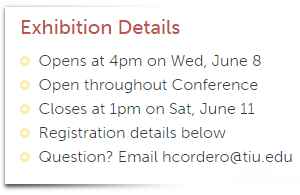 One way that we'd like to represent this collaborative spirit is by hosting an exhibition area at the conference, which provides a space for the many organizations represented by our participants to present the work that they're doing. Organizations like ASA, BioLogos, Colossian Forum, and Reasons to Believe, among several others, will be present.
Please note: This is not the usual exhibition area. There won't be representatives "working" their tables. Rather, the tables represent the participants themselves and the organizations that they're affiliated with. This means both that the focus is much more informational than promotional and that the people affiliated with the tables will simply be part of the event (rather than tied to the exhibition area).
---
Exhibition Registration
The Exhibition Center will open at 4pm on Wednesday, June 8th and run for the duraction of the conference. The area will close at 1pm on Saturday, June 11th. Exhibition participants are asked to arrive any time after 2pm on June 8 and have their materials setup by 5pm. Tear-down of the exhibition area will run from 12-3pm on June 11.
Additionally, If you will be shipping packages to Trinity, please mail them to:
Attention: Heather Cordero
Trinity International University
2065 Half Day Road
Deerfield, IL 60015
If you need materials returned via mail, please provide a pre-paid FedEx shipping label for your packages. Below is the information required for registering your table. The fee for all participants who are attending as exhibitors is $200, which includes exhibition expenses and all meals throughout the event.