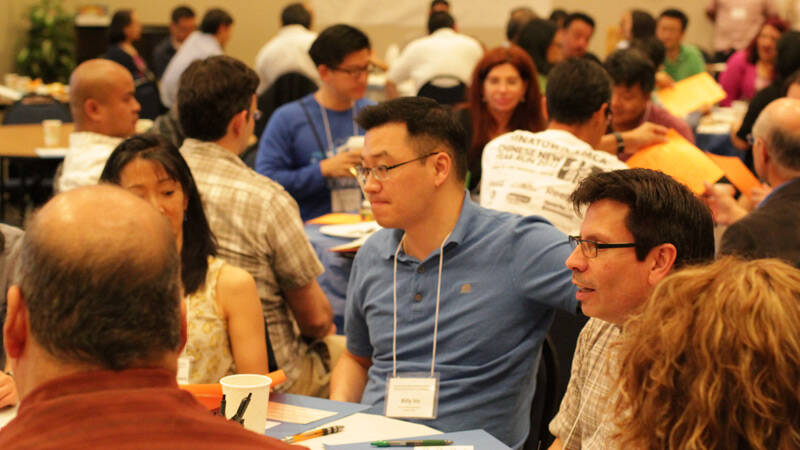 HANA Theological Reflection: When God Shows Up
No one unifying experience or identity exists within Latino communities across North America, as Dr. Juan Martínez discussed. Pastor Marcos Canales continued this thread through his theological reflections. He proposed that "a variety of experiences" within Latino community churches raise themes that can form, nurture, and influence the living and doing of theology together. Canales highlighted three particular thematic gifts that Latino communities bring to the theological roundtable.
Teologia en conjunto, i.e., collaborative theology, is birthed in the midst of vibrant faith communities in which theological reflection is formed and confirmed. As a theological methodology, teologia en conjunto takes seriously "cooperative theological discourse and the particularity of the Latina community." It weaves historical and lived experiences within Latina communities into theological expression, commitments, and commentary on Scripture and traditional Christian doctrine. Latino theology, therefore, is neither ahistorical nor divorced from the struggle (la lucha) felt daily in family and church communities.  Teologia en conjunto relies on a robust affirmation that God is at work in the midst of his people, and that his people will, can, and do give expression to his work in testimonies, hymns and songs, and everyday lives. The communities of church and family "witness to your birth, shape your development, and inform any conversation about God, faith, lament, and hope," Canales suggested. Because of this collaborative interplay, no meaningful theological reflection or assertions can actually be made apart from community. Teologia en conjunto enriches the landscape of theological method in that it makes space for the testimonies of Latina communities to interact with Scripture, God, history and the church as a reciprocal dynamic of the theological task. Theology is not just a doctrinal statement on a lifeless piece of paper but is a vibrant witness from within church communities that "God showed up," God made himself real and known in actual lives.
Not only does God show up in the community. God shows up in the spaces separated from access to power and privilege, through the "shared experiences of marginality," the location from which theological reflection is done in Latino communities. Perhaps too often forgotten in Christian memory, the first disciples and Early Church grew and thrived in a vacuum of political access. Rather it was through being powerless and voiceless that the early martyrs of the church testified to the radical salvation to be found only in and through Christ, and by no other means that the Roman Empire sought to propagate. Yet, with the imposition of Christianity under Constantine's rule and the adoption of the cross as the symbol of empirical military power, Christianity moved into a center of power and influence, never to quite lose its assumption of this center again. However, in the reading of the Bible together, God shows up, addressing "all matters for faith and life, and evaluates personal, familial, and communal realities." The Bible confronts assumptions of power as its many narratives and the ministry of Jesus question "both ancient and contemporary commitments to the centers of power and influence." Latino communities read the Bible first expecting God to speak from the text to them, but they also read the Bible as a people who know well the "realities of exclusion, poverty, suffering, movement, oppression, and the commoditization of people."  "Jesus' own marginalization as a Galilean," first on the run from Herod and always marginal in comparison to the messianic hopes emanating from Jerusalem, resonate deeply within Latino communities. Additionally, "Jesus' death and suffering took place outside the gates of Jerusalem, [shifting] the locus theologicus of salvation from…the Jerusalem temple to the peripheral dumpster of carcasses." For Latino faith communities then, their marginality is captured, lifted up, and dignified in God's salvation history: in the marginality of the location and reality of God's presence, Christ's life and death, and the ongoing work of the Spirit to bring salvation into bruised and struggling physical realities desperately in need of a Lord and King whose eye is on the barrio.
Justo González suggests in Mañana: Christian Theology from a Hispanic Perspective that "if it is true we bring a particular perspective to history and theology, then we must also bring a particular perspective to the interpretation of Scripture." He proposes that within Latino communities, a "non-innocent reading of Scripture" emerges in which "the skeletons in our closet" are on display in the very heroes and heroines of the faith. Canales presented that this non-innocent, i.e., non-idealized, reading of Scripture is shaped by mestizaje (mixed) identities and histories which Dr. Juan Martínez addressed earlier in the day. Mestizaje identities provide the lens and voices through which theological reflection is done. They are complex identities, as is the biblical corpus, shaped by the realities of "lament, loss, and suffering." Thus, there is a resonance with the non-innocent realities of the biblical text. Such interaction with the biblical text serves to heighten the authority with which Scripture is viewed and encountered. Latino communities provide a powerful witness to biblical authority by embracing the whole of the canon and not ignoring difficult or inconvenient passages.
Additionally, interactions and dialogue between the borders of mestizaje identities and lands provide "fertile grounds where the Latina church can recover a sense of mission for the twenty-first century." The fertility of missional opportunity arises because it is in movement between identities and places that God shows up. As Canales commented on his own journey, "Even in the midst of my encountering mestizaje, God showed up…In the loneliness and dislocation, God, the maker of heaven and earth, met me."