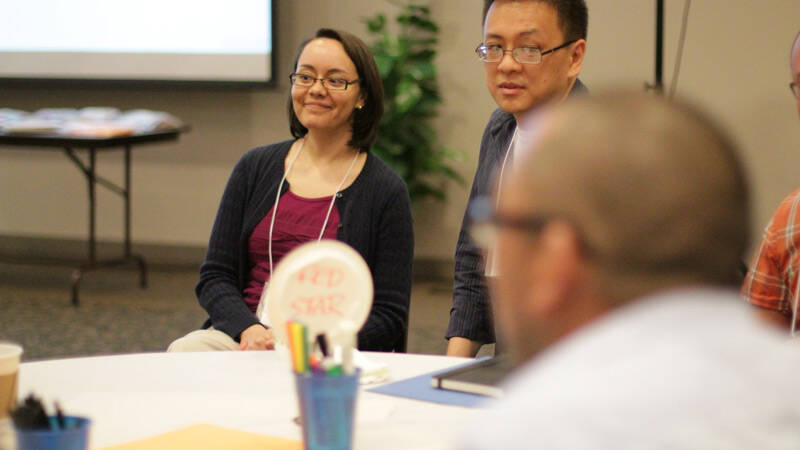 Nurturing the Next Generation Snapshot
Greg Jao spent formative years of his life in a Chinese immigrant church, now serving as a National Field Director for Intervarsity Christian Fellowship in New York City. He brought his ability to weave leadership, humor, and teaching gifts together most recently as the emcee of Urbana12, making even the most mundane and necessary logistical announcements entertaining. He also leads IVCF's response to campus access challenges, helping chapters around the country navigate maintaining faith-based leadership expectations in often inconsistently pluralistic university contexts. For him, nurturing the next generation of HANA community faith leaders is eating and breathing. Track co-facilitator Armida Belmonte Stephens, Ph.D. candidate, Theology, knows well the challenges and the call to nurture HANA youth who will either abandon or lead growing churches across the nation. A daughter of Mexican immigrants herself, she experienced a variety of church communities before her father entered into pastoral ministry. She recalls with a fond depth the vision her father brought to their church's worship, welcoming all genres of music and instruments into their church. For Latino communities, their stories are told through song, she shared, and it was through song that Armida's young faith was formed to grow beautiful, strongly rooted in Christ.
Out of their stories, Greg and Armida invited their track to think creatively, imaginatively, and prophetically about ways to invite and form the youth of HANA churches to love and serve the Lord and his people. Over four days of conversations, they recognized a need for the younger generations to hear the stories of the older generations in order to bridge the disconnection which occurs between the two. They also discussed the question, What does it mean to be a culture of celebration for the next generation, recognizing that youth need to be celebrated more and given more creative outlets for expressions of their forming faith in Jesus Christ. Their track also discussed the role of music and song in story-telling as well as the need to create paradigms for new questions of identity, male-female partnership, and curricula that is relevant to the context of immigrant youth.
Each track will prepare a chapter to be published in a book forthcoming from the HANA Consultation, to be edited by Dr. Peter Cha and Dr. Juan Martínez.