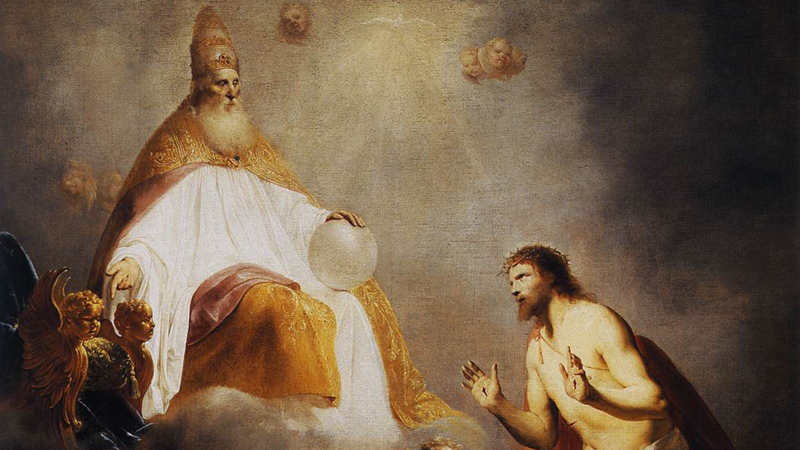 Through Word and Spirit, God is Present Wherever He Wishes
"And Sitteth on the Right Hand of God the Father Almighty"
As Stephen was stoned, he looked to heaven and saw Jesus Christ at the right hand of the Father, where he ascended to rule in glory. Reflecting on this passage from Acts 7, Martin Luther (1483-1546), the German Reformer, provides a number of pastoral insights. He acknowledges that while we might not see the ruling Christ physically as Stephen did, he is not hidden to us, as we can view him through his word, and that while Christ is absent in body, his Spirit has been sent to give comfort and strength.
Commentary
This glimpse Stephen saw with his physical eyes. We today do not see this physically, but in the Word we, too—praise God!—see this. . . . As Christ promised that his Spirit will be with us, comforting and strengthening us, so that we will have complete joy and solace in him, and he will bring our cause to the light of day, so that we must sense that it is not we but the Spirit of God who is speaking. As we hear from Stephen in this passage, he gives such an excellent response to the false charges of the Jews and confirms that the temple in Jerusalem is not God's house, that he is not constrained to it, and it will be destroyed on account of their sins. He demonstrates how God was among his people and needed no such house.
Acts, eds. Esther Chung-Kim and Todd R. Hains, Reformation Commentary on Scripture NT vol. 6, p. 99.
RCS Series: Creed & Reformation
---
"Call All Your Creation Home to You" "I Believe in God the Father Almighty".
"God as Creator is Foundational to Faith" "Maker of Heaven and Earth".
"No Greater Love" "And in Jesus Christ, his Only Son, Our Lord".
"The Spirit Will Accomplish God's Plan Within Mary" "Who Was Conceived of the Holy Spirit".
"The Humble Maid Was Predestined to This Honor " "Born of the Virgin Mary".
"God Forsakes No One and Thus Forsook His Son" "Suffered Under Pontius Pilate".
"Christ's Death Will Draw People From the Whole World" "Was Crucified, Dead, and Buried".
"The Article of Christ's Descent Into Hell Is Rooted in Scripture" "He Descended into Hell".
"Paul Centers the Gospel in Jesus' Resurrection" "The Third Day He Rose Again from the Dead".
"Why Christ Ascended" "He Ascended into Heaven".