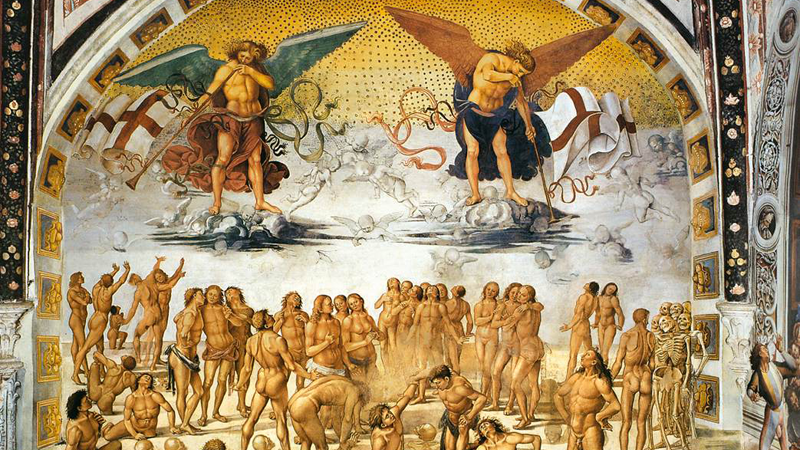 The Christian's Great Hope
"The Resurrection of the Body"
For many, the confession of our resurrected bodies is often of little consequence, encumbered as we are in our present life with corrupted bodies that will ultimately fade away. In his "Twelve Articles of the Christian Faith" radical Anabaptist Balthasar Hubmaier (1480/85-1528) exclaims, however, that whatever happens to our earthly bodies, on the day of the resurrection we will celebrate our return in a body made new, prepared for the life to come.
Commentary
I believe and confess the resurrection of the body. Yea, of this very body that now clothes me. Even if it should be consumed by worms, drowned, decomposed, burned; yea and even if my temporal honor, property, body, and life are taken away, I will still first receive the true honor that is valid before God, imperishable possessions, and impassable, transfigured, immortal body, and eternal life on the day of the joyous resurrection of my flesh. O my mild Lord Jesus Christ, strengthen and preserve me in faith!
1 Corinthians, ed. Scott M. Manetsch. Reformation Commentary on Scripture, vol. 9a, p. 391.
RCS Series: Creed & Reformation
---
"Call All Your Creation Home to You" "I Believe in God the Father Almighty".
"God as Creator is Foundational to Faith" "Maker of Heaven and Earth".
"No Greater Love" "And in Jesus Christ, his Only Son, Our Lord".
"The Spirit Will Accomplish God's Plan Within Mary" "Who Was Conceived of the Holy Spirit".
"The Humble Maid Was Predestined to This Honor " "Born of the Virgin Mary".
"God Forsakes No One and Thus Forsook His Son" "Suffered Under Pontius Pilate".
"Christ's Death Will Draw People From the Whole World" "Was Crucified, Dead, and Buried".
"The Article of Christ's Descent Into Hell Is Rooted in Scripture" "He Descended into Hell".
"Paul Centers the Gospel in Jesus' Resurrection" "The Third Day He Rose Again from the Dead".
"Why Christ Ascended" "He Ascended into Heaven".
"Through Word and Spirit, God Is Present Wherever He Wishes" "And Sitteth on the Right Hand of God the Father Almighty".
"Final Judgment Must Be Visible" "From Thence He Shall Come to Judge the Quick and the Dead".
"A Prayer to the Holy Spirit" "I Believe in the Holy Spirit".
"The Head Helps Even the Smallest Member of the Body to Grow" "The Holy Catholic Church".
"All Eyes on Us" "The Communion of Saints".
"Christ's Priesthood Provides Complete Salvation" "The Forgiveness of Sins".