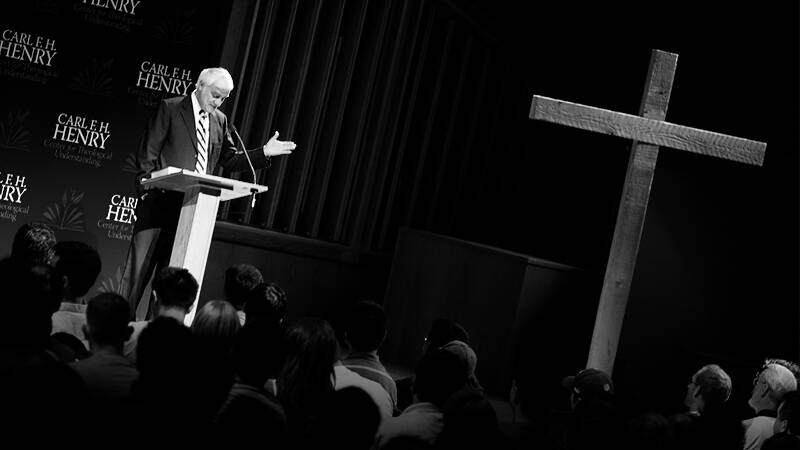 Ravi Zacharias: A Personal Reminiscence
In 1973 I came to Trinity Evangelical Divinity School to commence my studies in Philosophy of Religion. In order to get my feet wet, I decided to begin by taking a fourth term summer school class in Apologetics with Prof. John Warwick Montgomery. Enrolled in the class with me was a nattily dressed, young Indian chap with jet black hair and what Dr. Montgomery called "a lovely brogue." His name was Ravi Zacharias.
The final paper for the class was to be an essay responding to an article by one of Dr. Montgomery's critics. In his inimitable style, Dr. Montgomery promised to arrange for the best reply to be published in a professional journal. As it turned out,I find peculiar satisfaction in Ravi and my paths' having coalesced during those years at Trinity before forking into our respective ministries. neither Ravi nor I won the contest; the victor was Tim Erdel, who went on to become a professor of philosophy at Bethel College. Tim takes great pleasure in recounting how he once bested both Ravi Zacharias and William Lane Craig in Apologetics!
I find peculiar satisfaction in Ravi and my paths' having coalesced during those years at Trinity before forking into our respective ministries. The years we shared at Trinity were determinative for each of us. Ravi went on to found a worldwide evangelistic organization bearing his name, while I became an academic. Both of us have emphasized sharing the Gospel in the context of presenting an intellectual defense of the Christian worldview. Ravi's ministry took him all over the world, speaking not only at universities and conferences but also to political leaders in various lands. I recall his once telling me how a stewardess approached him on a flight, informing him that he had now traveled three million miles with that airline and thanking him for his patronage. And that was just one airline of the many he flew!
Over the years it was my privilege to join forces with Ravi on occasion in evangelistic outreaches. These have been memorable experiences for me. Once, when we spoke together at the University of Iowa, I fell deathly ill with the flu and was so hoarse that I could barely croak my answers to students' questions. I thought the event was a disaster. Yet the recording of that joint event has been greatly used of the Lord, having been viewed again and again over the years.
One of the most exotic and interesting evangelistic campaigns in which we teamed up occurred when Ravi invited me to join him for an outreach in Moscow, recently opened after the fall of the Iron Curtain. Along with the successful events, I remember a couple that didn't go so well. The venue for a meeting at which I spoke was switched by the authorities too late for people to be notified. As a result, only two people came. The next night Ravi spoke at a different venue, and only four people showed up. One of the RZIM staff teased me, "Gee, Bill, Ravi doubled the attendance you drew!" Before I could think of a reply, another staff member interjected, "Well, what really happened was this: the two people who came last night to hear Bill were so impressed that they each came back tonight and brought a friend!"
On another occasion Ravi and I teamed up in our home town of Atlanta on a panel featuring a naturalist philosopher and a Hindu pantheist. The most memorable moment came near the close of the evening, when a questioner asked what he could say to his sister who was dying of cancer. Ravi's message of hope in response to the question hit the ball out of the park. I wonder if Ravi later recalled his words.
I also owe Ravi a debt of gratitude for his help in reinvigorating the Evangelical Philosophical Society to become one of the largest professional societies of Christian philosophers today. When several of us in the early '90s felt the call to transform the society from a small, hand-holding organization to a top quality professional society with a first rate journal,Ravi, you precede us to the other side, and soon we shall join you. Until that day, my brother, we shall dearly miss you. it was Ravi who furnished the facilities for us to gather in Atlanta and to draft our revolutionary plans, which have since been fulfilled. Ravi himself benefited from the intellectual input of philosopher Paul Copan, who served for a time on RZIM staff and eventually became the President of the EPS.
Along with Lee Strobel, Ravi became the most recognizable popular Christian apologist of our day. He was a riveting speaker, whose declamation reminded one of Billy Graham in his force and authority. He would often close his eyes while speaking, as poetry or hymns rolled out in perfect memory. He was an entertaining raconteur whose messages were filled with story after story of his travels and experiences. Ravi struggled with terrible back pain over the years, no doubt exacerbated by his long travels, and yet he persisted in courage and good humor. Although Ravi was the author of many books and innumerable sermons, I think that his most enduring legacy—apart, of course, from the many lives he has touched all around the world–will be the organization he leaves behind, a worldwide ministry of trained evangelists and apologists who will carry on his work.
I was deeply pained and shaken when I learned that Ravi's cancer had become untreatable and that his death was imminent. It was heart-breaking to think that my class-mate and colleague would soon be gone, and I was poignantly reminded of the frailty and finitude of my own life. Ravi, you precede us to the other side, and soon we shall join you. Until that day, my brother, we shall dearly miss you.
---