"No society that disregards ethical finalities can long postpone ignominious collapse." ~ Carl. F. H. Henry
---
The Christian Mindset In A Secular Society
Henry's The Christian Mindset In A Secular Society: Promoting Evangelical Renewal and National Righteousness is just as relevant today as when it was first published in 1984.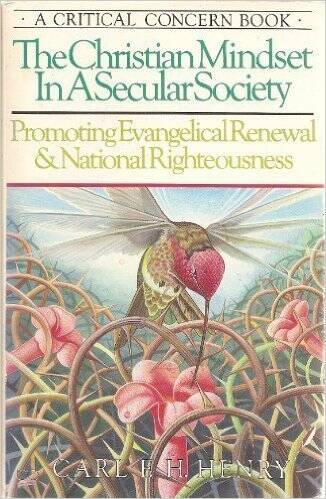 In no more than 150 pages, Henry addresses key issues that dominated American culture in the second half of the twentieth century: homosexual rights, immigration, racial and social inequality, and bipartisan politics, to name a few. Henry addresses both Christians and non-Christians concerning how biblical values should take shape on the contemporary political and social scene. Henry seeks to qualify and affirm Christian morality in the United States, rather than abandon it to unsound alternatives in a hurried and morally drifting culture.
Situating The Christian (and "Secular") Mindset
Appearing relatively late In Henry's corpus, The Christian Mindset contributes to the development of one of Henry's lifelong convictions; namely, the advancement of proper Christian engagement with the larger political and social contexts. Since 1947, and his famous Uneasy Conscience, Henry championed shrewd introspection concerning how Christians ought to, and ought not to, participate in politics and society. Texts like The Christian Mindset, Christian Countermoves in a Decadent Culture(1986), Henry's text illustrates to non-Christians how the Christian religion thinks about these issues, and informs Christians that are contemplating these issues how they might best engage.and Twilight of a Great Civilization (1988), are examples of Henry's sustained analysis of how Christian conviction relates to an ever-changing American socio-political culture.
In Chapter one, Henry asserts that what distinguishes current social decline from former periods of social decline is that the "secular mindset rests as never before upon a nonbiblical willset" (19). To the secular audience, Henry affirms the notion of tolerance as an important distinctive of democracy (a point that he makes throughout the book). He urges seculars, however, to understand that tolerance is not synonymous with the abandonment of moral norms, or absolutes. The following chapters reiterate and expand on this idea.
To the Christian audience, Henry calls for robust evangelical cultural engagement. Be it a renewed commitment to intellectual life, a strong commitment to social justice, the wholesale affirmation of human dignity, or the need for deep personal piety, Henry's seeks to encourage and guide evangelicals on how these convictions inform political engagement. As often as not, Henry's rationale is agreeable to both Christian and secular readers. While discourse concerning human dignity, honest democracy, and religious freedom are issues about which Christianity ought to be concerned, such topics are not distinctly Christian. Henry's text thus illustrates to non-Christians how the Christian religion thinks about these issues, and informs Christians that are contemplating these issues how they might best engage.
Summary of Contents
In chapters 2 and 3 Henry presents his vision for the church in such a time; his vision encompasses theology, ecclesiological practice, denominational cooperation, missions, revival, and methodology. Chapter four constitutes Henry's foundational argument. He argues that a dogged support of religious freedom is the cornerstone of human rights and a thriving democracy (his
thesis for this claim can be found on pg.64-5). Chapter 5 concerns what Henry sees as the decline of the university. Rather than contentment with humanism's ubiquitous but shallow claim over academia, Henry calls for a return to a conviction in shared values rooted in the Imago Dei.
Henry's sixth and seventh chapter first affirms evangelicals in their desire to engage politically, and second, guides evangelicals as to how to go about doing so. Henry occasionally offers balanced perspectives for supporting certain positions and issues, but more often he speaks broadly about what kind of philosophy evangelicals should maintain concerning legislation. His last chapter reiterates both the dire straits that he concludes the United States to be in, as well as his hope of God in Christ who will ultimately return and redeem a lost people.
Religious Rights & Christian Social Engagement
The proposed "evangelical counteroffensive (9)" is decidedly not the Christian nationalist agenda that one might expect from many modern politically outspoken evangelicals (perhaps the caricature of Henry as an old-fashioned, right-wing evangelical needs to be reconsidered). Henry's stated desire is to "voice a balanced verdict on our troubled nation (9)," which he does with success. His criticisms show no favoritism to any one political party. Henry's critique of politically motivated Christian rhetoric is harsh. Furthermore, while Henry is personally supportive and Henry's true goal in this text is constructing a robust defense of religious rights, and using those as a launching pad for political rights and encouraging of decidedly Christian legislation (legislation that supports traditional Judeo-Christian moral absolutes), his support is not without nuanced exceptions.
Henry's true goal in this text is constructing a robust defense of religious rights, and using those as a launching pad, political rights. Henry makes no distinction between the religious rights of Muslims, Buddhists, or Christians; rather, he argues that legislative, judicial, and executive support for an individual's freedom of conscience and worship are imperative for a truly democratic society. A perspective that, perhaps, sounds not unlike the founding fathers? Whilst Henry desires a culture centered on biblical principles, he does not see legislating distinctly Christian laws to be the answer. Rather, he champions a religiously free society with a strong emphasis on human rights and dignity, wherein he believes the gospel can (and will), through the church, manifest itself and awaken sinners to Christ.
Henry's writings are indeed insightful, compelling, and important. This text serves as a thoughtful guide for the Christian seeking to understand how to engage politically, and as a thorough exposition for the non-Christian concerning the impetus for distinctly evangelical political philosophy. In both cases, it is worthy of thoughtful reexamination.
This book summary was written Jordan Bishop, a graduate student at TEDS,
and under the supervision of Doug Sweeney.