"We must choose to cast our lot either with a society that admits only private faiths … or we must hoist a banner to a higher Sovereign, the Lord of lords and King of kings."
---
Twilight of a Great Civilization: The Drift Toward Neo-Paganism
Published by Crossway Books in 1988, Twilight of a Great Civilization is Henry's most comprehensive examination of proper evangelical relations with American culture and politics. The text is best read in the wake of The Christian Mindset in a Secular Society (1984), and Christian Countermoves in a Decedent Culture (1986).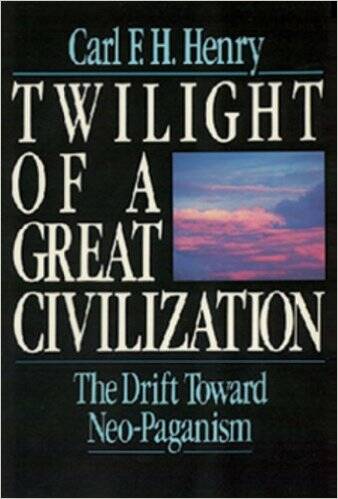 Whereas The Christian Mindset concerns more practical advice for Christians engaging in politics, and Christian Countermoves details the necessity of Christ in the modern cultural and politic sphere, Twilight of a Great Civilization expounds more broadly Henry's philosophy. The text is not easy to summarize. The book does not strive toward one "main" argument or understanding, rather it reads more like a collection of essays addressing topics surrounding culture, religion, philosophy, and history.
Summary of Contents
The book is broken up into six sections, each containing 3-4 chapters. In Section I, "The Rise of Neo-Paganism," Henry details the ways in which he understands western culture to be on the decline. Principally, his critiques and concerns revolve around rampant post-modernism relativism, amoral naturalism, and unexamined transcendentalism. Section II, "Essentials in the Battle for Truth," presents Henry's case for Christ and for the Christian mindset. Henry portrays a depraved humanity, hopelessly in need of Christ, and a destructively subjectivist culture, in need of biblical moral grounding.
In the third section, "Illusion, Idealism and Biblical Truth," Henry argues that evangelical theology needs to be deeply biblical and theologically rooted, rather than socially oriented. Henry uses liberation theology, capital punishment, and evangelical ecumenism to address the boundaries between biblical convictions and social amiableness. Henry understands a good education to be one that cultivates humility and uses texts … in order to answer perennial questions concerning the "who," "where," and "why" of human life.Section IV, "Education and the Quest for Truth," concerns Henry's critiques of western academia, which are basically the same as his critiques of western culture; namely, the displacement of absolute values in favor of relativism. Henry's vision for university education is somewhat "classical." He understands a good education to be one that cultivates humility and uses texts that could range from Plato's Republic to the Bible, in order to answer perennial questions concerning the "who," "where," and "why" of human life.
Section V, "Confronting Neo-Paganism," is written to Christian spiritual and intellectual leaders. Henry refutes the presumption that Christianity is "counter-cultural" or "incompatible" with culture. Rather, he argues that western culture needs Christianity, and more specifically, it needs academic and philosophically-minded Christians who are able to confront destructive philosophical trends and embolden human dignity and rights. The final section, "Before Hell Breaks Out," reiterates and contextualizes the challenges from his 1947 text, The Uneasy Conscience of Modern Fundamentalism. Henry continues to argue that Christians need to be amongst the vanguard of those fighting against social injustice, at the forefront of academic scholarship, and working always towards evangelical cooperation.
Understanding the Twilight
Henry understands our current culture as one that perpetuates the nightfall of Western civilization. He argues that inherited core values of Western civilization are increasingly found unfashionable and therefore irrelevant. Values such as rationalism, a belief in moral absolutes, and accountability to a higher authority. Hence, as truth is relativized to equality with mere opinion, and uninspired naturalism is elevated to the discerning arbiter in society, Henry believes that this sunset is soon to happen. With the political system, entertainment industry, media outlets, and educational institutions all touting secular humanism, Henry's hope for a reversal rests in the small and increasingly beleaguered Christians. Henry finds Christianity as a viable and increasingly necessary ideology by which Western culture can push back against its amorphous and crumbling moral foundations. With secular culture no longer upholding sustainable values, Christianity not only serves as the only salvation for sinners but also as the only way to bring stability to Western culture.
This book, however, is not a mere platform for a sermon on impending doom. It is Henry's shrewd analysis of philosophical and intellectual trends in the West. Twilight, Henry notes, is far from midday, but also equally far from midnight. He is deeply concerned with the current trajectory, but likewise reassuring that Western disregard for Truth is not completely said, nor done.
This book summary was written Jordan Bishop, a graduate student at TEDS,
and under the supervision of Doug Sweeney.