Resource Overview
Was Evil 'Possible' before it Arose?
God, Evil, and Possibility  |  Lecture 5 of 6
The fifth lecture explores the question of whether evil was possible before it arose, either ontologically or logically, as related to God and to humanity. Accordingly to Blocher, evil is neither ontologically nor logically possible with God. That God who is sovereign should permit decrees and that his beloved creatures should choose against him to their own destruction remains an opaque mystery. As for humanity, evil is only a logical possibility before the original disobedience. The consequence of partaking of the tree, on the other hand, is a newfound real possibility to sin. Refusing to go beyond the non-impossibility of evil, Blocher declares the whence of evil another opaque mystery. There is no rational explanation. Our natural desire is to order things, but evil is a thorn in the flesh of reason. Our intelligence was made to understand the rationality and beauty of the good. If we yield to the temptation of our intelligence regarding evil, ultimately to sort out the disorderliness of evil, then we deny its proper hiddenness. We must not understand, for this is to deny the essence of evil. In this light, all explanations of evil are disordered accounts of disorder. The only place where evil is preserved in its scandalous character is in Scripture.
Biography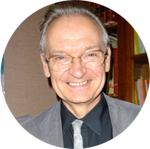 Henri A. G. Blocher is Professor of Systematic Theology, Faculte Libre de Theologie Evangelique, Vaux-sur-Seine, France. He is also an internationally recognized theologian, author, and teacher; he has taught in Africa, Australia, Canada, Europe and the United States.