Who We Are
---
Catalyst Leadership Center was launched in 1992 by two pastors, Peter Cha and David Gibbons, who where at the time leaders in Korean American youth ministry. They founded Catalyst (originally named Katalyst) as a response to the growing needs they were seeing in young Korean American Christians. Over time, they recognized that the issues went far beyond the Korean community and were relevant to the broader Asian North American community as well. Today, Catalyst seeks to equip Asian North American pastors, seminarians, and lay leaders in order to address the leadership issues facing the younger generations of the Asian North American church. The board of Catalyst includes respected leaders in the Asian North American Christian community, and through its grassroots efforts to date, the organization has developed momentum and established credibility, known for its ability to identify, mentor, and provide resources for this new generation of Asian North Americans.
Three key components make up the identity and core of Catalyst: 1) The Gospel, 2) Culture, and 39 Leadership. Thus, Catalyst's mission is to help people proclaim the Gospel in a uniquely Asian North American cultural context, and to nurture leaders who can continue that work in generations to come.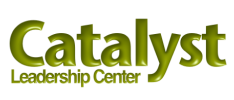 The organization's long-term vision is both internally and externally focused. Internally, Catalyst hopes to nurture and develop Asian North American Christian leaders so that they will provide futures direction and vibrancy to Asian North American ministry. Externally, Catalyst seeks to answer the question "How can the Asian North American church contribute to the work of the Church in arises such as evangelism and global missions, justice, racial reconciliation, and cultural engagement?" Thus, Catalyst ultimately desires not only to strengthen the Asian North American church, but to also have an impact on the wider Church body, particularly in areas centered on Gospel, culture, and leadership.
Through its work, Catalyst strives to fundamentally change the way that Asian North Americans serve the younger generations, as well as the way that the Asian North American church participates in Kingdom work with its non-Asian brothers and sisters. It seeks both to catalyze an evangelistic spark for Asian North American young people, but also to supplement that spark with adequate and appropriate resources for spiritual formation, with the result that this generation of Asian North American youth will not only know Jesus as Lord and Savior, but also be able to pass that knowledge onto future generations.
Past Ministry Projects
Since 1992, Catalyst has ministered directly to more than 600 young Asian American leaders all across North America. Three notable ministry projects are as follows:
Catalyst Learning Adventures Conferences (1992-1997)
During the first phase of its ministry, Catalyst has recognized and served a need for Asian American ministry leaders to have a national platform for ministry engagement and leadership mobilization, and has sponsored eight such national conferences. These annual conferences have provided spiritual renewal for church leaders as well as stimulating interaction on relevant ministry issues.
The Asian American Spiritual Leadership Formation Class (1998-2000)
The help address the lack of appropriate education tools for future Asian American pastors, Catalyst developed a seminary-level class focused on the topic of Asian American spiritual leadership formation. Team-taught by 4-5 members of the Catalyst board, the class consist of 15-20 participants, half of whom are current seminary students, and half of whom are recent entrants into church ministry, all of whom are considered young emerging leaders. Three very successful modules have been conducted, two at Trinity Evangelical Divinity School (1998, 1999) and another at Talbot Seminary (2000).
The Catalyst Leadership Forum on Asian North American Congregational Ministry (2002-2004)
During these three years, Catalyst sponsored unique annual gatherings called the Catalyst Leadership Forum. The forum brought together 15 Asian North American Christian leaders who have proven experience in ethnic and multiethnic ministry, yet who exhibit diversity with regards to their personalities, competencies and spheres of influence. These leaders con ducted in-depth discussions on particular questions and issues over the course of three years, meeting several days each year in Long Beach, CA.
In God's grace, as the result of this collaborative project, a book called Growing Healthy Asian American Churches was published in 2006 (IVP), the first book of its kind.
THE SCRUBS PASTORAL MENTORING PROGRAM (2007-ongoing)
In 2007, the Catalyst Leadership Center started a new pilot project of an 18-month long mentoring program called "Scrubs." Through this project, we mentor a group of younger Asian North American pastors (those who have been in full time ministry for 3-8 years) to help them with the many challenges they face in their ministry settings. We just completed the first cycle of this mentoring program in the Washington DC area, and 12 Asian American young pastors participated in it. Catalyst is preparing to start another cycle of the Scrubs program in the Chicago area and a separate mentoring program for Asian North American women pastors.