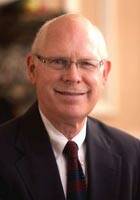 Join us on Wednesday, January 22 in the ATO Chapel at 1:00pm as G. K. Beale, professor of New Testament at Westminster Theological Seminary and renowned Revelation scholar, lectures on "The Worship of the Two Witnesses," expounding Revelation 11 for its existential and pastoral fruitfulness for life and ministry.
The Apostle Paul exhorts us to "not grieve as others do who have no hope" (1 Thes. 4:13). Such a message is not one that denies lament, or attempts to expunge suffering and sadness from the Christian vocabulary. On the contrary, Paul's concern is not with grief per se, but rather with a particular kind of grief: despair. Literally, being without hope. As Paul elsewhere exclaims – "O death, where is your sting" (1 Cor 15:55, quoting Isa 25:8) – we hope because Christ has been raised from the dead, the firstfruits among the dead. "Thanks be to God, who gives us the victory through our Lord Jesus Christ" (v56).
Paul is not the only biblical author to speak on the subject of suffering. Indeed, as G. K. Beale will argue in his upcoming Scripture and Ministry Lecture, this is precisely the context in which we ought to read and understand Revelation 11:1-11 and the two witnesses. We are the "lampstands" lighting the world of the good news of Jesus ChristRather than looking for overly literal and unnecessarily predictive understandings, Beale will argue that the "two witnesses" are the world-wide church and the unmeasured outer court marks the period of our tribulation and suffering, in which we are the "lampstands" lighting the world of the good news of Jesus Christ. In this context of the "outer court," we ought to not only expect suffering, but we must understand that suffering as intimately intertwined with our very witness to the world. We are indeed the lampstands precisely in our lack of despair, our continued hope in the face of suffering, always being ready to give an account of and praise to the one in whom our hope rests.
The lecture will also be live-streamed at stream.tiu.edu.