Human beings are made in the image of a good God who also provides indicators of what constitutes the "good" in his creation. Human beings are more human to the degree that they "image" God.
In recent days I have been made aware of the fact that my reflections to this point have been oriented primarily toward the community of those redeemed by faith in Jesus Christ. I will offer some considerations for the secular realm in the future that could carry significance because of the common ground of God as Creator and human beings as image bearers of God. Before doing so, however, I would like to reflect on the word flourishing, which is widely embraced but less frequently given careful attention.
The Merriam-Webster dictionary defines flourishing as follows: "to grow well", "to be healthy", "to be very successful", "to grow luxuriantly." Many assign specific meaning to these general characteristics with a focus upon material possessions. Flourishing becomes a function of monetary holdings or of accumulated power. Power "Flourishing is not enveloped in having. The fundamental matter is a faith that affirms God's goodness in all situations."is desirous because of its perceived capacity to stabilize and protect one's existence within certain desired parameters.
Though such people may acknowledge God and call upon him for these types of "blessings," perhaps going so far as to thank him for them, they can still be far from God's ideal of flourishing. God does indeed bless materially, he does facilitate human flourishing, but scripture alerts us to some needed nuances in our understanding of what it means properly to give God thanks and submit to his perspective.
The Lord, the God of Israel, promises abundance in every way to his people in Deuteronomy 8:7-10, but the chapter also includes instructions from the Lord concerning appropriate character development. "And he humbled you and let you hunger and fed you with manna, which you did not know, nor did your fathers know, that he might make you know that man does not live by bread alone, but man lives by every word that comes from the mouth of the Lord" (v3). There is abundance provided and, no doubt, abundance would increase with the cultivation of land and the conducting of good business practices. The people are cautioned, however, to maintain a proper perspective, lest "your heart be lifted up, and you forget the Lord your God," (v14).
The flourishing of our image bearing is a delicate thing. On the one hand, diligence in the responsible use of God's provisions is critical. On the other hand, a proper view of God,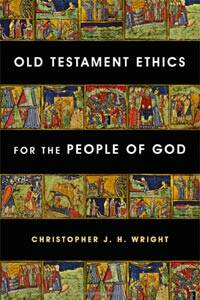 his provisions and his will, is even more critical for authentic image flourishing. Christopher J. H. Wright offers a timely insight as he writes: "Only when God is properly honoured and praised can we preserve the fine line between sufficiency and praise on the one hand, and surplus and pride on the other"[1].
Image bearers may not embrace God's view on what they may have and what they may not have. Flourishing is not necessarily enveloped in having. The fundamental matter is a faith that affirms God's goodness in all situations. Not for a moment do I believe that submission to God's view is easy. Apart from enabling grace, I believe that it is impossible under some conditions. I will explore more the connection between submission to God and the actualization of image flourishing in subsequent blogs.
---
[1] Old Testament Ethics for the People of God (Downers Grove: IVP Academic, 2001), p. 163. Emphasis original.